The village sign was designed by Peter Halford, having won an open competition in 1982.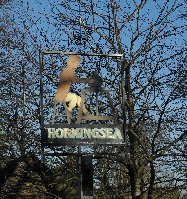 Simon Hellowell and Stephen Bell, students at Bottisham Village College, made the metal work for the sign under the supervision of the technology teacher using full size drawings supplied by Peter.
The raw steel was prepared by Rod Butcher and painted by Peter. The original sign writing was done by a sign writer in Fen Ditton.
The plinth was built by Horace Buck and the whole thing was erected in 1984 using an ex pub sign post supplied by another villager. The sign was repainted in 2000 by Peter Halford.
The logo is also used by the HRA