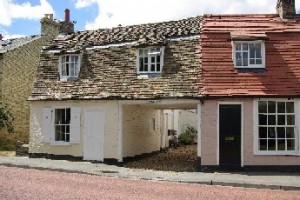 Horningsea is an Anglo-Saxon name meaning "island of the people of Horn". During mediaeval times the soil surrounding the village was famous for its richness, and arable land was said to be able to produce the normal yield. The village sign reflects the making of Roman pottery here between the 2nd and 4th Centuries. Shards of the pottery can still be found in gardens and fields around the village.
In 1214 the Bishop of Ely gave the church, the rectory and consequently much of the land in the village to the Hospital of St John – later becoming St John's College.  In 2014 the village celebrates 800 years of association with the College.
With the aid of a "Sharing Heritage" Lottery grant of nearly £10,000 the village has organised a film, booklet and history trail with a series of "explorations" of its history:
– Farming from Domesday to the present day (September 2013)
– From the dinosaurs to the Coprolite workers (October 2013)
– Horningsea at War (November 2013)
– A walk around Roman Horningsea with professional archaeologists (26 January 2014)
– Joshua Moore creating Horningsea Park in Sydney, Australia (26 January 2014, Australia Day)
– The river and the Viking invasion, commerce and more (23 February 2014)
– People and Places of Horningsea (23 March 2014)
– Horningsea 800 weekend (17 & 18 May 2014). The Bishop of Ely and St John's College Choir visit the church; Medieval battle re-enactors; The film's World Premiere; and much more.
Car Dyke, a roman canal whose features can still be seen, connected the village right the way up to Lincoln.  Another theory is that the dyke acted as a draining ditch and served to protect against flooding.
The village used to have a school, some of whose pupils live in the village today. The building remains.
School photographs in existence identify grandparents of current inhabitants.
The architecture of the village buildings is varied and includes C16th, Georgian and Victorian buildings as well as modern houses.
Other useful links for Horningsea history: