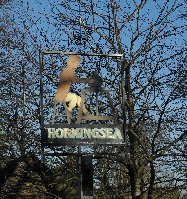 Horningsea is a small and picturesque village of some 300 inhabitants situated  5 miles north of Cambridge, on the B1047  between Fen Ditton and Waterbeach, and adjoining the River Cam. It is part of the South Cambridgeshire constituency and, in 2005, it was awarded the Village of the Year within South Cambs. Although it is essentially a  farming area  many residents commute daily into Cambridge and other towns.
Click for village map
Community– There is a thriving and friendly community whose inhabitants are served by a number of groups and organisations, including the Parish Council and Residents Association. There is a village hall and church.
History – The village has a very interesting history dating back to Viking times and beyond. Horningsea pottery was prized by the Romans.
Services – There is a local pub, two garden centres, a small caravan site and a restaurant offering accommodation. Transport needs are served by nearby rail, bus and trunk road connections.
Environment – The village is on the edge of the great northward sweep of fenland. The village is a conservation area, surrounded by grade 1 agricultural land, and near the River Cam.
Social events – Horningsea has a variety of events and activities to offer  musically, in the visual arts and socially, and boasts an annual Horticultural Show , now over 50 years old.
Diary – Forthcoming dates of interest
News – Read of any village developments and the most recent Newsletter