A big thank you to all those of you who actually turned up in the pouring rain and rode with us. There were 13 of us at the final count (including Reuben 18 months!).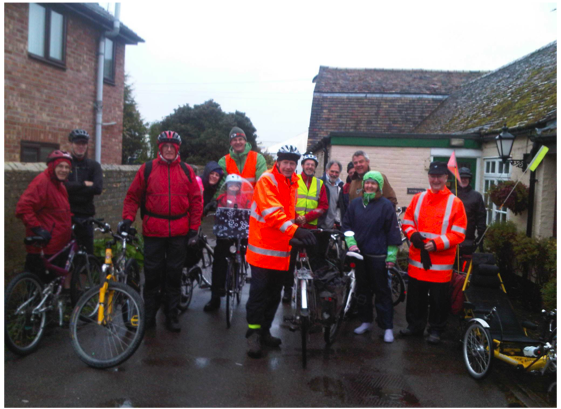 The rain actually stopped after a while and we splashed merrily through puddles etc until we finally arrived at the Milton Country Park café where hot drinks and cakes were the preferred choices.
Baits Bite Lock bridge proved much less of an obstacle than I had feared, due largely to the high-speed cycle removals initiative featuring (among others) Chris and Peter who seemed to have whisked my trike, spares, tools, first-aid kit, etc., across the bridge while I was busy helping someone else, and deposited it neatly on the other side facing the right way!
The marshals worked brilliantly, overseeing and directing the riders safely without any fuss and I am really grateful to all of them for their support and efforts that helped to make the ride safe and fun despite the weather.
As to the riders themselves – what more can I say than a huge thank you to all of you, for actually turning up in the pouring rain and making the whole event such a success.
The final icing on the cake, was a huge pot of French Onion soup that was awaiting us on our return to the Plough and Fleece courtesy of Tom Canning, the chef. It was a kind and much appreciated gesture and was warmly welcomed by all of us.
To those of you who couldn`t make it for various reasons, you missed a real blinder of a day! There will be other rides and I hope you will be able to join us then.
See you all then I hope!
Bert Santilly.