Richard Pleasants, Chairman, Horningsea Residents Association.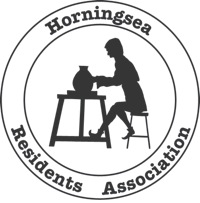 Every year (for the past six or seven) we have an International Night, and every year we have to think of a different nation's food to enjoy, which rules out Belgium. We've had Greek Night when a real Greek person came, and Curry Night when Graham cooked a vat of his legendary Dahl (Is that how you spell it, or is that Roald – and is that just a misspelling of Ronald?). This year, given the events of June 23rd , I suggested that we might consider a Brexit night, consisting of tepid beer, soggy fish and chips and a fight, but this idea was met with silence and so was abandoned, which is good because only four people would have come.
So instead we had an Italian Night which was very good indeed. It always surprises me that for an event which isn't pre-booked, the right number of people always come – and not always the same ones. OK, Greek Night was a bit of a squeeze, but Italian Night filled the room with about fifty-five people, and the table groaned with exquisite food brought by so many of the excellent cooks in the village. Despite the quantity, very little went home again. The hall was expertly bedecked with flags, and a Vespa and Laverda Jota from the St John's Lane Collection were on display and later lounged on by exhibitionist women in exotic slinky dresses who were not at all camera-shy.
Liz had compiled an excellent collection of Latin music and the tables looked magnificent with table-cloths, flowers and candles. A fair bit of Chianti was put away, judging by the recycling bin, and everyone enjoyed a shot (or two) of Limoncello or Grappa (courtesy of Michael Harrison) after the dinner.
Special thanks to all those who stayed late in the evening or turned up early in the morning to clear up.
Yet another first class evening in Horningsea!