Very many thanks to everyone who contributed to the success of the Horningsea 800 weekend … it is impossible to mention everyone – as the credits to the Horningsea 800 film said "and the People of Horningsea!". Thanks to the flower arrangers, the film makers and participants, those who took part in the flotilla, those who came and participated in the Service, those who contributed to the picnic, the musicians, dancers, medieval knights, crafts people, jousters … and those who came to enjoy! As an exception to naming of names particular thanks to the Bishop of Ely and St John's College who made this a weekend to be remembered for a very long time.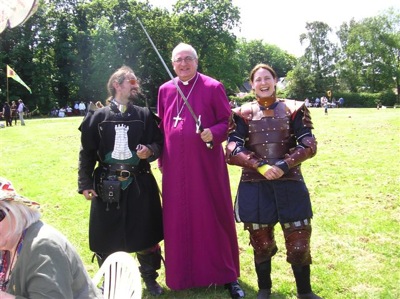 The film will be entered into competitions for independent films (we have missed the Cannes film Festival but who knows – maybe the Oscars?!) and produced as a DVD for sale. The price and details of how to buy the film will be advertised once we are able to sell it.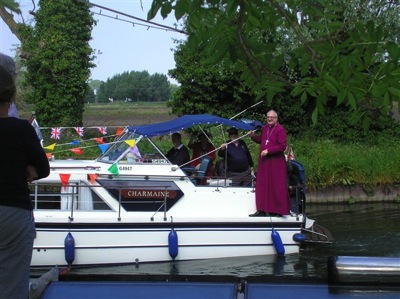 An over view of the weekend: Once in 800 years … Horningsea celebrated the 800th anniversary of the connection with St John's College in perfect style. Every part of the village and every village organisation produced a flower arrangement to decorate the Church inside and out with witty and imaginative displays of life in Horningsea today. The Horningsea 800 film on Saturday evening was stunning. Mia Harrison was the star who was seen in the extraordinarily clever film made by Dominic and Daniel Halford, collecting souvenirs of village history and gathering them into the telephone box (dinosaurs, Viking longboat, kangaroo …) and climbing up the outside of the Church tower to talk to the animated gargoyle on the roof!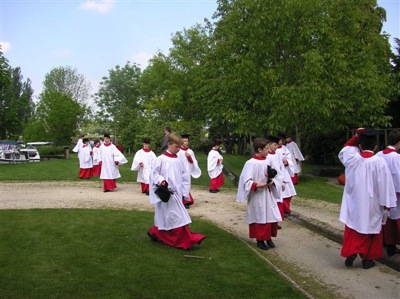 Sunday morning saw the flotilla of seven boats setting off from Clayhithe, decorated with flags and bunting, the Bishop on board waving to everyone on the towpath! The stones in the Church reverberated with the wonderful singing of St John's choir as they sang Choral Matins. The Horningsea 800 flags were dedicated and presented to the Bishop and to the Dean of St John's. The Village picnic and Medieval fair took us all back 800 years, with the musicians playing Celtic harps and crumhorns. There were Morris dancers and medieval re-enactors showing their calligraphy to match the original 1214 Deed of Gift, spicy biscuits, flags, knights in chain mail, battles, archers… Village crafts people showed that medieval skills have not been lost with spinners, weavers and willow weavers. Children designed and painted their own shields and jousted with or without hobby horses! Above all the sun shone on the whole weekend!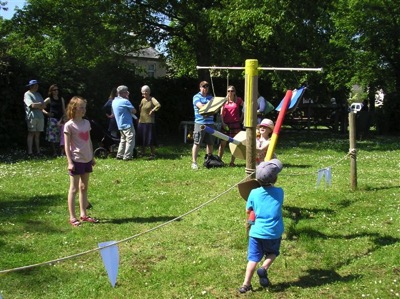 If you have any good photos of the weekend would you print them and bring them to the Village Day to be displayed in the Village Hall?