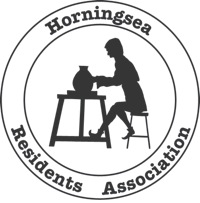 Unlike last year`s sub-aqua event, Sunday 19th May was an absolutely perfect day and at 10.30am we set off from the Plough and Fleece, riding for ten miles trough varied terrain; rural roads, riverside paths, urban streets, waterfronts, and common land We crossed six bridges (over four and under two) finishing up with an excellent bowl of Tom`s special soup at our community pub, the Plough and Fleece.
The ride was led by Peter who kept a nice steady pace making sure that everyone was able to keep up and that they didn't miss any turnings. Bert rode "sweeper" at the rear of the ride, making sure no-one was left behind or had mechanical problems.
Our first unscheduled stop was within half a mile of Horningsea when one of the riders spotted a pony entangled in some netting. Half the ride pulled up and we were able to free the animal before carrying on to our first "gather-up" point.
The youngest passenger was Reuben Balm who "helped" his daddy on to greater performance by tickling his back, while the youngest rider riding her own bike was Jo and Sim`s little girl Lottie who determinedly ploughed her way round a slightly shorter version of the ride and covered a grand total of six and a half miles. Well done to everyone.
All in all a great day and one we would like to repeat as soon as we can.
Bert